With just one hand, making a lap around the dial in 24 hours, Holistik changes the perception of time.
Fantastic watch and lovely company
Thanks so much LARSEN & ERIKSEN! My watch arrived in really good time despite Brexit challenges and I'm so happy with it.

It's a really lovely, simple but elegant watch and a nice reminder of happy trips to Denmark.
Wonderful watch, sleek design and robust material
The little details make all the difference. I must add that the delivery to Canada was really quick, I received my package in less than 5 days.
Excellent quality materials
Great customer service and extremely quick delivery considering I am on the opposite of the world.
The Danes sure know how to provide quality products, service and a great price. Excellent packaging and presentation.
HOLISTIK
Slow is not a speed, it's a mindset.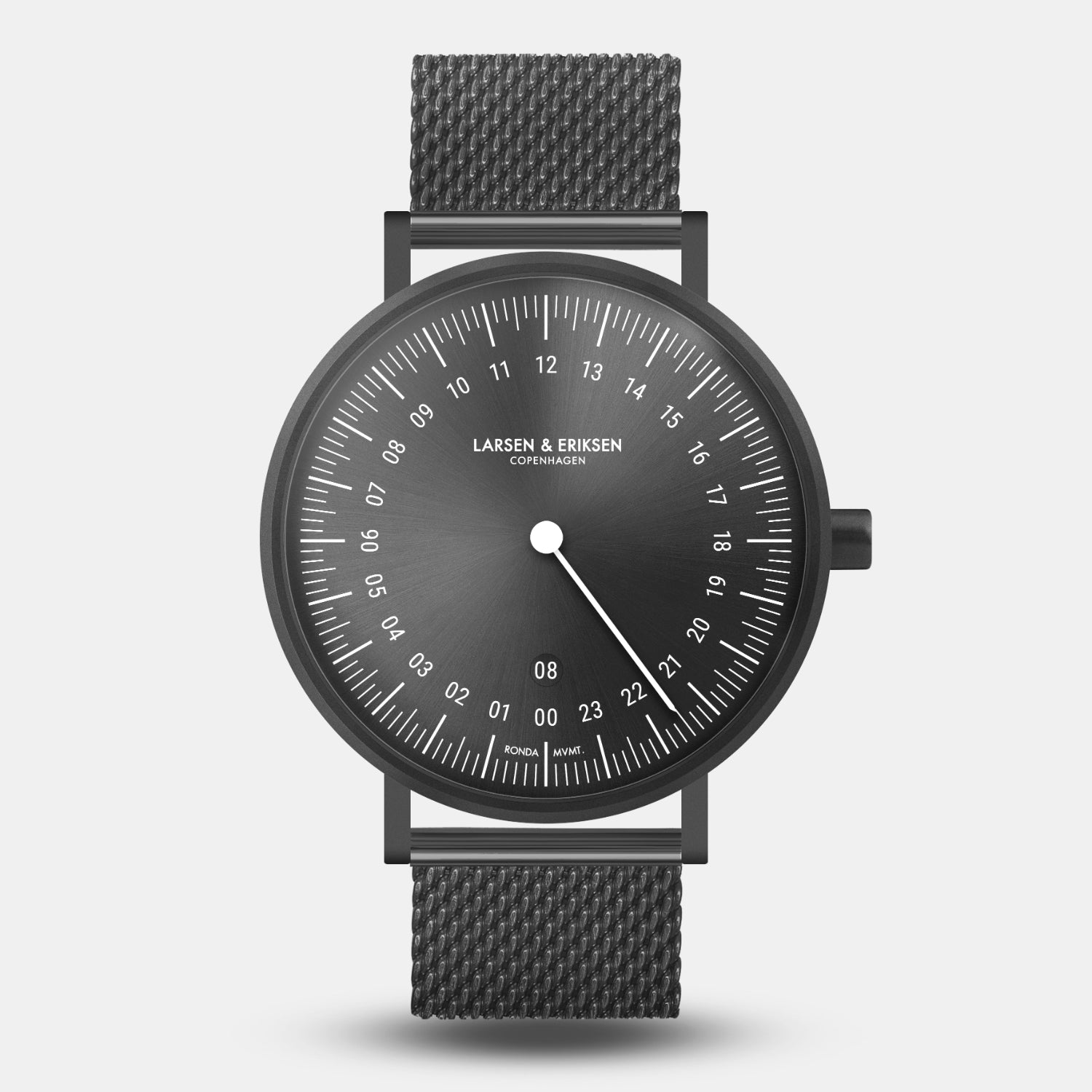 DANISH DESIGN
With just one hand, making a lap around the dial in 24 hours, Holistik changes the perception of time.

The design structures the day in a simple yet holistic overview, which allows for time to be more of a notion than a meticulous stress factor.
MINERAL CRYSTAL
The glass on Holistik is made from mineral crystal glass, which has been reinforced to make sure it doesn't scratch or break easily.
SWISS MOVEMENT
Holistik is hand-assembled around a Swiss Ronda 505.24H quartz movement, which is covered by a lifetime warranty.

The Swiss movement is 100% made in Switzerland by Ronda; one of the world's most renowned watch movement manufacturers, with a proud history dating back to 1946.
SIZE
Diameter: 39 mm
Thickness: 8.5 mm
MOVEMENT
Swiss Ronda FE505.24H Quartz Movement
GLASS
Reinforced Mineral Crystal Glass
STRAP
No-Tool Strap Change System
PACKAGING
Sustainable Packaging (FSC Paper and Recycled Plastic Bottles)
THE AESTHETES.

WATCHES THAT INTERPRET TIME AND LANGUAGE IN THEIR OWN WAY.

A TIMEPIECE FROM LARSEN & ERIKSEN IS ONE OF THOSE LITTLE THINGS THAT MAKES YOU FEEL HAPPY.
BALANCED, DIGNIFIED AND TIMELESS; IT'S ALL THE THINGS THAT WE WANT TO BE, WEAR AND SURROUND OURSELVES WITH.
THE QUALITY IS VERY HIGH, PARTICULARLY FOR THE AFFORDABLE PRICE POINT ... WE LOVE THEIR COLLABORATION WITH LOUISIANA MOMA.

YOUNG, DANISH DESIGN STUDIO WITH INTERNATIONAL SUCCESS ... THE NEW FAVORITE OF THE CREATIVE CLASS.